Your membership benefits our entire community by:
Supporting education for 4,000 + adults and children each year to increase the level of environmental awareness and understanding in our community
Increasing math & scientific literacy among our regional students
Inspiring the community to discover, explore, and enjoy the wonders of the natural world
Encouraging active citizenry committed to stewardship and sustainability
Building inter-generational relationships between volunteers of all ages and children during school, summer and community programs
Maintaining the nature center facilities, exhibits, public amenities, parking lot and trails as a place to enjoy nature and learn, open for all people with no entrance fee
Membership Benefits:
Visit the ASTC website for a full list of benefits
Free classes, activities and workshops. Free entry to our Science Saturday and Green Gardening Workshops, as well as free admission to select nature centers across the continent and science museums around the world.
Discounted classes, activities and workshops: summer and spring day camps for kids, and other special events throughout the year.
10% discount upon request to Seedlings Members
15% discount upon request to all other members
In addition, a membership with the PNC will also provide you free or reduced fee entry to over 800 Science and Nature Centers in the United States.
For more information, click here to visit the ASTC website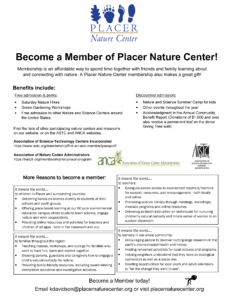 If you prefer to sign up and pay electronically please click below. We offer two different ways to sign up. You may renew manually each year or sign up for automatic renewal.                                                                     * PayPal adds a $3.00 service fee for every transaction
A membership through us will also get you into other Science and Nature Centers free or at a reduced rate: