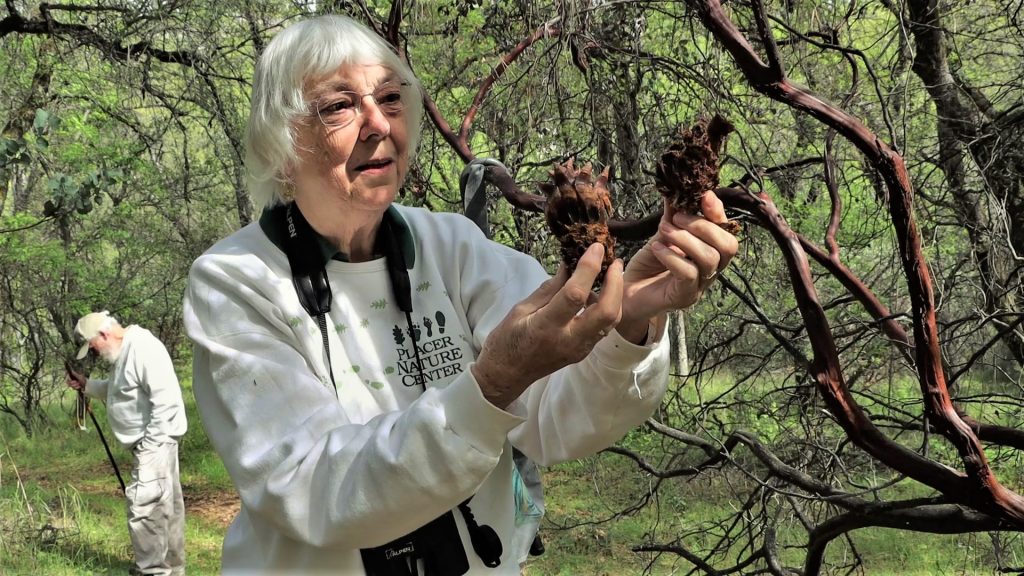 Join the Placer Nature Center Team!
You can teach environmental concepts to children and make a huge difference in the way they see the world. You can teach a child to view their environment with care, curiosity and joy. To help protect the earth, become a Docent with PNC and teach children about the world they live in. 
If you are committed to working toward sustainability and protecting this precious planet – this is the way to walk the talk! As a Docent, volunteers lead school children on field trips at our Auburn-based environmental learning center. Children learn science concepts – but more importantly – they learn stewardship of the earth. 
Anyone who enjoys children and the outdoors can be a Docent. Young, old, learned or untrained. PNC will teach each volunteer all they need to know to become a wonderful Docent to our visitors. You can help a child make the connection from the health of the environment to their own health and future. 
Become a docent on the weekends, weekdays or both! We send out  emails with our scheduled programs and you get to choose what days work with your schedule.
Orientation: you will learn who we are, what we do, what we need, and what you can do to help.
Training: you can choose what programs to volunteer for according to your availability. There is no mandatory set of hours per year required to keep your docent status.
Upcoming Orientation and Training:
*Please contact us for training dates
For more information regarding becoming a docent:                                     email: programs@PlacerNatureCenter.org
What are current docents saying about our program?
Richard Huntley:
"Before I retired, I was too busy to take time to smell the roses and look at the trees. Since coming to the Placer Nature Center (as a Docent) I have learned not only to take the time but to pass this newly found information on to the children that visit the center. Working with the children enables me to get the exercise I need (by walking the trails) and keeps my brain active."
Ignacio Lopez:
"One of the kids was very shy and reserved and didn't talk at all through the program. But when I gave him the magnifying glass he was engaged and attentive – still not talking but gave me a hug when the program was over."
Sally Ellsworth:
"I went through docent training in 1994 with my daughter who was a senior in high school at the time.  I had know Linda Desai for many years before that but had not known about the nature center until a friend told me about it.  Volunteering as a docent seemed like a fun thing to do, even though I hardly considered myself a naturalist. The training was fun and informative ( Linda is a fountain of information) and I jumped right in with leading school groups.
     Obviously, I still find working at PNC enjoyable or I wouldn't have stuck with it for so many years.  There are groups that are so much fun to be with they they inspire me to keep going even after having a group or two who try my patience and make me wonder what parents and teachers are doing (or not doing) to create such inattentive and un-curious children.  I find it interesting to see the differences between the many schools and teachers who come to us.  Some are clearly doing a fine job of educating the children in their care and others make me wonder???
  Thanks to Linda and my fellow docents, I am always learning new things and refining how I present information to our visitors – a work in progress.
    I have gone on a few of our docent field trips and have found them to be very interesting.  The ones I have missed are due to scheduling conflicts rather than lack of interest.
    Over the years, I have seen huge changes at Placer Nature Center.  When I started there we had a cage full of testy chickens where the Nature Shop and Watershed building stand.  They would sometimes get out and were definitely not the cuddly sort.   There were no bathrooms, just a handicapped Port-a Potty.  The discovery room was unfinished with screens instead of windows.  The exhibit hall still held the smell of the pig sty that it used to be, especially on damp days.  The library and office extension had not been built yet.  Our trails were much the same, except we had what we called 'The Kindergarten Trail" which is no longer used.  There was no bridge over the seasonal creek on the shortcut trail.  Chad Morgan's Eagle Scout project was the bridge that we now have.  His sister, Carrie, created the first demonstration bee hive as her senior project and that has brought so much pleasure to all of us and our visitors over the years
    I have seen many docents come and go.  This seems to be fairly typical of volunteers.  As each group goes through the training, we all hope they will stick with us at least for a year or two.  Who knows why some of us keep on going??
    I have seen our nature center go through some hard times, but feel it is on the right track for now.  I am thrilled that it will be able to celebrate 25 years.  What will the next 25 bring?" 
Mary Weeks:
"I have been volunteering at the PNC since September 2015. So far my experience has been a learning experience. I have experience working with students of all ages but not necessarily all the subjects that are covered in the PNC program. The materials are available to docents to review before groups arrive. I am learning along with the students. The students usually are pretty knowledgeable since they were working on this curriculum in school. I did go on one field trip with Josena to a Head Start (?) school for pre-school students. We had a good time, the students enjoyed it, I learned many things as well as the kids. I think the initial docent training is ok. It is up to the docent to prepare before you lead a group. I had the option of auditing with experienced docents. I enjoyed that and could see that the more I researched the more comfortable I would become being a docent. Since field trips for students are limited I try to make their visit fun and that they go away remembering something they can talk about with their family. I am enjoying my docent roll and look forward to the next few months with excited students!"
Linda Conklin:
"When I retired from teaching and leading Sierra Club National Outings, I started looking for another way to contribute. For many years, my goal in life has been to Share Nature, especially with children. I like taking my grandsons hiking and teaching young children at the Placer Nature Center.
 

I know so much more, now, about animals, plants, habitats, life-cycles, water, soil etc.  The docent training, learning about nature and putting my understanding into words and experiences for children has helped me learn and remember more information than I had before.
 

Thanks to Josena and the staff at the Nature Center, I continue to be inspired and want to help.
 

I've been interested in docent field trips, but haven't attended any due to time conflicts.
 

I believe the original docent training and auditing prepared me to take groups by myself for the normal school group curriculum.  I'm glad additional training has been provided for other settings and groups.  I feel like there is so much more to learn."