Come Join the Fun!
Volun
teer Work Days 2021 
August 14
September 11
October 9
November 13
Contact us for more ways to volunteer!
Garden Workshops with Richard Huntley
Richard is back as a volunteer at the Placer Nature Center. He will be offering workshops on garden-related topics throughout the summer. Contact us to sign up! The cost is $20 for 3 hours of instruction.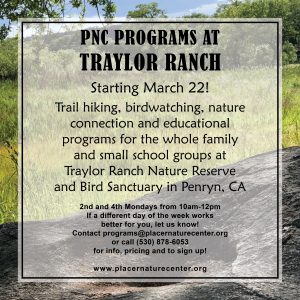 WEEKEND FAMILY HIKES FOR 2021!
Led by our docent Linda Conklin. Contact us to schedule your visit!
ALL FOUR SEASONS AND AUTUMN         
When the seasons change, so do the life cycles of the plants and animals.  We'll learn about how trees and animals begin and end. 
WINTER: Furry Friends   
Get introduced to the mammals of the foothills. We'll learn where they live, what they eat, which ones are predators, which are prey and how you can tell which they are. We'll look for tracks, scat and other clues of these animals.
SPRING AND SUMMER: Wildflower or Birds   
We'll be looking at wildflowers along the nature trail with hand lenses or looking for birds or bird nests with kid's binoculars.
Spring Into Nature Preschool Series
Tuesdays 10-11:30 am
March  9 Tracks
March 23 Bursting Buds
April 6  Nature's Textures
April  20 Tree Homes
May 4 Birds
May 18 Wildflowers